An Argentine filmmaker explores her humorous and intimate 10 year search for long lasting love in hopes of understanding why she is 35 and single.

TV TRANSMITIONS
La cadena de televisión Pivot de Participant Media y Univision Networks, la principal compañía de medios de comunicación de Hispanoamérica, se han unido para presentar una serie de convincentes documentales, tanto en español como en inglés.
La serie de ocho documentales originales co-producidos o adquiridos por Univision News y Pivot, resaltan temas de interés para los Millennials. También fue transmitida por la cadena NHK de Japón, la tv pública japonesa y en Señal Colombia.
35 y soltera es parte de la serie Panorámica. Fue lanzado en español en Univisión, transmisión simultánea en inglés en Pivot en 2016.

CREW
Director: Paula Schargorodsky
Executive Producers: Paula Schargorodsky, Julie Goldman
Writers: Paula Schargorodsky, Julieta Steinberg
Editor: Rosario Suárez, (SAE)
Director of Photography: Paula Schargorodsky, Eliza Capai
Original Music: Gabriel Chwojnik
Sound Design: Martín Grignaschi

FESTIVALES Y PREMIOS
DocMontevideo 2016 – Semana del documental.
Premiere mundial: Festival Internacional de Cine de Guadalajara, México. Marzo 2016 – Competencia Oficial
Premiere Europea: Documenta Madrid, España. Abril 2016 – Competencia Panorama.
Docs Barcelona-Medellín, Colombia. Julio 2016.
Premiere Norteamericana: Atlanta Film Festival, USA. Abril 2016.
Idfa Docs For Sale 2015.
Rough Cut Screening: All Lights India International Film Festival, India. Noviembre 2015.
Rough Cut Screening: BAFICI Buenos Aires Festival Internacional de Cine Independiente, Argentina. Abril 2015 – Competencia Avant-Garde & Genre.
Fondo NYTimes Op-Doc para la version corta de "35 and single" short film. 2013
Premio Señal Colombia. DocMontevideo, Julio 2014.
Ventana Sur FIP. Films In Progress 2014.
IFP Project Forum 2014. Proyecto seleccionado como representante de Power to the Pixel. USA, 2014.
Seleccionada para el Rough Cut Lab de DocMontevideo. 2014 (con Niels Pagh Andersen)
Power to the Pixel: Arte International Prize, 2013.
Fondo Tribeca Latin America Media Arts. Tribeca Film Institute, 2013.
DocMontevideo 2016 – Semana del documental.
National Film Board of Canada. Premio para desarrollar un proyecto transmedia ("get over it") a partir de "35 y soltera" en residencia en la sede de NFB en Montreal, 2013.
DocMontevideo Pitching Forum. NFB Prize por un componente Interactivo ("Get over it"), 2012.
National Film Board Pitching Prize, 2012.
Premio Dok Incubator, 2012.
Presentación abierta en Dok Leipzig Festival, 2011.
Presentación abierta Work in progress en Dok Leipzig Festival, 2011.
Premio Ibermedia, 2011.
Premio Doculab Guadalajara, 2011.
Pitching Atlantidoc 2010.
Latin side of the doc 2010.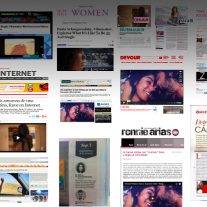 35 y soltera tuvo una gran repercusión en los medios de todo el mundo